Our Services
Contact Details
Address:
The Green Lane
Greenmount
Castleshane
Co. Monaghan
Ireland
Tel: +353 47 85892
Mob: +353 86 6067710
Fax: +353 47 85878
Mon-Fri: 9:00am-6:00pm
Lunch: 1.00-2:00 pm
Sat: 9:15am-1:00pm

Electrics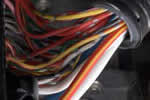 Electrical systems in cars today are a lot more complicated than they used to be. The mechanics at Castleshane Motors have to work on your car's computer systems as well as the standard mechanisms. More functions of your car are run by computer than ever before, and as a result there are many more circuits and connections in modern cars. At Castleshane Motors we make it our business to understand how modern computerised systems work so that we can offer the best quality of repair to your car's electrics.
Modern electrical systems in cars are built with quite high resistances, and this can affect the performance of some electrical devices. A car has various 'wiring looms', designed specifically for that model, which run to multi-plugs. A multi-plug can have anything from one or two wires to sixty or seventy wires connected to it. Because they are the connector for the system, and therefore have to be accessible, multi-plugs are prone to corrosion.
In the past, cars did not have as many electrical systems, and they were not as complicated. For example, modern cars have 'climate control' systems which operate through temperature sensors placed around the car. Naturally, these have a more complex set-up than older air conditioning units, which were simply operated by two or three manual switches. Older electrical units in cars could easily run off 12 volt systems with quite robust wiring. Because modern cars contain a lot more electrics, manufacturers have needed to use much finer wiring to save space. But because these wires are thinner they are also easier to break, and must be run at lower voltages.
The Castleshane Motors workshop is equipped with the latest diagnostic equipment to access the on-board computers found in most modern vehicles