Our Services
Contact Details
Address:
The Green Lane
Greenmount
Castleshane
Co. Monaghan
Ireland
Tel: +353 47 85892
Mob: +353 86 6067710
Fax: +353 47 85878
Mon-Fri: 9:00am-6:00pm
Lunch: 1.00-2:00 pm
Sat: 9:15am-1:00pm

Engine Management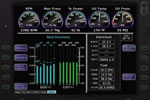 The term 'Engine Management' refers to the in-car computer system in newer cars, which monitors the engine for problems. The Engine Management system uses a series of sensors within the engine to tell the driver when a fault has occurred, when a part needs to be replaced, or when a service is required.
As with any system, the Engine Management system can occasionally get things wrong. Every now and then a sensor will detect a fault, only for a technician to find there is no problem with the part in question. Sometimes the Engine Management system requires 'rebooting' in order to clear these misdiagnosed faults from its memory.
At Castleshane Motors we are able to clear diagnostic faults with in-car computer systems. We have diagnostic equipment which is compatible with the Engine Management systems of most vehicles. We are able to use a diagnostic plug to identify incorrect fault codes and clear them from the system - and charge far less than main auto dealers do for this service.