Our Services
Contact Details
Address:
The Green Lane
Greenmount
Castleshane
Co. Monaghan
Ireland
Tel: +353 47 85892
Mob: +353 86 6067710
Fax: +353 47 85878
Mon-Fri: 9:00am-6:00pm
Lunch: 1.00-2:00 pm
Sat: 9:15am-1:00pm

Welding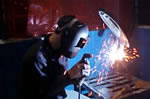 Most of the time, welding is required due to corrosion of the metal framework of the car. In coastal areas such as Brighton & Hove, salt air can promote corrosion and reduce the lifespan of a car's chassis.
Rust can be avoided by making sure the car is well-protected. Modern cars normally have a good protective coating, so that cars are not as vulnerable to corrosion. But rust is still a problem. Most rust on cars starts from the inside, and it is difficult for manufacturers to treat the insides of box sections, and other interior parts of the car, against rust.
If your car is involved in an accident, it is important to ensure it is repaired properly and any work done to the structure of the vehicle is re-protected. If it is not, it will corrode a lot more quickly as the protective seal has been broken.
It is important that any welding work on cars is performed correctly. It is pointless to simply cover up holes in the metal - a welder needs to look at the bigger picture. The strength of the original metal needs to be reinforced. Also, all traces of rust need to be removed, which can often mean making the existing hole twice as large in order to ensure the surrounding metal is not corroded. The old and new metal must be fused together. If not, it will only take a tap to knock the new metal out of place.
At Castleshane Motors, our technicians have a good understanding of metalworking, and all our welding work is carried out with the highest regard for quality and safety.